You can learn how to
Reverse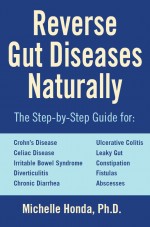 Your Gut Disease
Naturally with Michelle's
book geared to Crohn's and Colitis sufferers. This
comprehensive and
unprecidented self help
workbook will guide you
through all levels of healing. Learn more >>>
Upcoming and other books in my Reverse series
*The next book in this 'Reverse Depression Naturally' series will be covering full reversal of depression disorders including schizophrenia, bipolar, major depressive disorder, violent and abusive behavior, perfectly hidden depression and others.
Two books that assists all areas of illnesses and general well-being are Reverse Inflammation Naturally and Reverse Thyroid Disease. Everything that causes an imbalance in the body or has manifested into a symptom – involves inflammation. And how well we cope or do not – on a day to day basis – involves our thyroid gland (most abused gland in our body).
Reverse Gut Diseases Naturally book stands alone in its value as an important offering to society. Chron's, Colitis, IBS and more are fully reversible once the biochemical nature of the body is fully involved along with the employment safe elements that are recognized by our bodies.
Reverse Heart Disease book was second in the series due to the fact that every 40 seconds in North America someone is dying of heart related diseases. As in all of my books, the public requires alternative solutions to mainstream drugs and dietary protocols to bring the body back to a natural healthy functioning state.
Two aspects of my protocols always centers on 'empowering the body to heal' while ' stop breaking the body down'. And of course working with the body as a whole! Briefly, one stops breaking the body down by removing all foods, liquids and bad habits that cause inflammation or are intolerant to your body. Simultaneously, all missing elements/nutritional imbalances/other deficiencies – need to be replaced for the body to finally have the nutrients necessary for daily function and restoration…and so on.