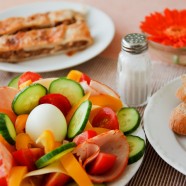 By utilizing the acid/alkaline food theory, your internal environment will be primed for life changing events that may ultimately redirect future health outcomes. Many people today have come to realize that cancer cannot grow in an alkaline state. There are many other examples showing how an imbalance between these two chemical systems sets up the platform for many main stream illnesses. Our natural biochemical makeup dictates that our food and liquid intake should match the pH level of our blood matrix. The dietary ratio to aim for is 80 percent alkaline foods and 20 percent acid forming foods. Most fruits and vegetables are alkaline forming whereas most starches and proteins are acid forming.
The parathyroid gland that sits on top of the thyroid gland controls the pH level of the blood. When the diet becomes predominately acid based, the parathyroid gland robs our bones and tissues of calcium to bring back the proper blood alkaline/acid ratio. You can see how this process affects our bone mass. And this is just one example of the impact and control this small yet powerful gland has upon the body. The bottom line is this gland could not exert such control if it were not in our design matrix to maintain this balance.
Take a mental scan of the foods you eat in a day and determine where your balance is. You can also pick up urine and salvia strips to test this balance. Our systems are more acid in the morning and become more alkaline throughout the day primarily due to liquid intake. The following lists provide an easy guide to help select more of the right food combinations.
* Refer to my personal eating plan post for help putting it together. "Michelle Honda's Personal Eating Regime"
Alkaline Fruits
Apples and Cider
Apricots
Avocadoes
Bananas
Berries
Breadfruit
Cactus
Cantaloupes
Carob, pod only
Cherries
Citron
Currants
Dates
Figs
Grapes
Grapefruits
Guavas
Kumquats
Lemons
Limes
Loquats
Mangoes
Melons
Nectarines
Olives
Oranges
Papayas
Passionfruit
Peaches
Pears
Persimmons
Pineapple
Plums
Pomegrante
Pomelos
Quince
Sapotes
Tamarind
Tangerines
Tomatoes
*Initially oranges and grapefruit are more acidic, however research shows that through the digestive process, they become alkaline. These items will cause pain or gastric upset for anyone with acid reflux and ulcers until healing has occurred.
*Cranberries and Rhubarb are slightly acid – both are high in oxalic acid. Eat sparingly.
Alkaline Vegetables
Artichokes
Asparagus, ripe
Bamboo shoots
Beans, (string, green, Lima)
Beans, (sprouts)
Beets and greens
Broccoli
Cabbage family
Dandelion greens
Dulse – Sea Plant
Eggplant
Endive
Escarole
Garlic
Horseradish, fresh
Kale
Kohlrabi
Leek
Legumes, Peas, split peas
Lettuce
Mushrooms
Okra
Onions
Oyster plant
Parsley
Parsnips
Peppers
Potatoes
Pumpkin
Radish
Rutabaga
Sauerkraut
Sorrel
Soybeans
Soybean extract
Spinach
Sprouts
Squash
Taro, baked
Turnips and greens
Water chestnut
Watercress
Acid Vegetables
Artichokes
Asparagus tips, white
Beans, all dried
Brussels sprouts
Corn, after picked 24 hours
Garbanzos
Lentils
White potatoes
Alkaline Dairy Products
Probiotics: Acidophilus and Bifida strains
Buttermilk
Milk, raw – cow, goat
Whey
Yogurt
Kefir
Clabbered Milk
Acid Dairy
Butter
Cheese, all
Cottage cheese
Cream cheese
Ice Cream
Sherbet
Custards
Milk and milk products: pasteurized, dried, canned
Alkaline Nuts
Almonds
Chestnuts roasted
Coconuts, fresh
Acid Nuts
All nuts, particularly roasted
Dried coconut
Peanuts
Acid Flesh Food
All meat: red meat, fowl, fish
Shellfish
Gelatin
Gravies
Meat stock
Acid Cereal Grains
All Grain Flours and Their Products. This includes rice.
Copyright © 2015 – All Rights Reserved – Michelle Honda Ph.D.