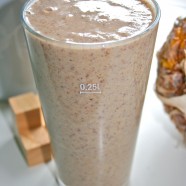 Michelle Honda's Milk Shake
There is a kid in all of us and children always enjoy milk shakes. Many people today of all ages need to follow some type of dietary restriction. Dairy is a common intolerance among many individuals, either to lactose or the protein casein. Happily there are several substitute choices for dairy milk and ice cream. The combinations and flavours can please most anyone's palate.
Ingredients
1 cup organic yogurt
6 ice cubes
1 cup rice, soy or almond milk (goats milk may be an option, depending on tolerance or senstivity)
1 cup fresh strawberries or 1 large banana
2 teaspoons organic chocolate powder
1 tablespoon nutritional flaked yeast
1tablespoon MCT oil (derived only from organic coconut oil)
1teaspoon Super EFA oil derived from fish oil (no fish taste)
2 tablespoons raw honey or guava syrup
Instructions
Place ice cubes at the bottom of the blender. Add remaining ingredients and blend for 1 minute or until the ice is dissolved. Check for desired sweetness. Caution: do not blend too long for it will heat up your shake or smoothie.
Copyright © 2018 – All Rights Reserved – Michelle Honda Ph.D.
Announcement
Look for my new forthcoming books "Reverse Heart Disease Naturally" (Jan.31, 2017) "Reverse Inflammation Naturally" (May 31, 2017) "Reverse Thyroid Diseases Naturally" (June 2018) and "Reverse Alzheimers/Dementia Naturally" (Nov.2018)
Where to Purchase:
Reverse Gut Diseases Naturally
Reverse Heart Disease Naturally


Reverse Thyroid Disease Naturally



Reverse Inflammation Naturally
Hatherleigh Press Page Buy Book RGDN
Local Book Stores in US and Canada
Disclaimer
While close attention was given to the accuracy of information in this article, the author accepts neither responsibility nor liability to any person with respect to injury, damage, loss or any circumstances involving alleged causes directly or indirectly related to the information in this article. The sole purpose is to educate and broaden ones awareness. This information is not meant to replace medical advice or services provided by a health care professional.