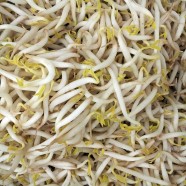 This post is particularly helpful for assurance when sprouting unfamiliar seeds or grains. Sprouts are arguably highly nutritious and fun for the children to take part in making. Get into the habit of putting them into sandwiches, salads, juice formulas and simply on the side to enhance the antioxidants, enzymes and fiber that you may not have as part of your meal. Sprouts are hailed for their cancer protective properties and wide array of health promoting nutrients. They are surprisingly easy and fun to grow.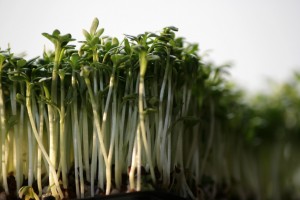 First Section Applies for Both Jar and Cloth Sprouting Methods
Obtain seed for sprouting and store in an insect proof container.
Measure and inspect seed for stones, debris and broken seeds
Rinse seed unless the seed is too small
Soak seeds in either a glass jar or use a cloth method away from direct sunlight
Soaking
8 – 12 hours: millet, lentil, rye, rice, sesame, wheat, sunflower, buckwheat, fenugreek, pumpkin, radish, cabbage, corn, mung beans and almond
4 – 6 hours: alfalfa
2 – 4 hours: amaranth, quinoa and oats
When sprouting seeds, keep in a dark place at room temperature
If sprouts are not consumed in the same day, store in the refrigerator and rinse every 24 hours
For longer growing periods, the jar method is less likely to mold compared to cloth
JAR METHOD
Use a wide mouth jar such as a canning jar that has a special plastic screened lid or purchase plastic mesh and improvise.
Cover seed with water; soak for the recommended time suggested.
When finished soak, invert jar, drain and rinse the seeds once.
Prop jar up at a 45 degree angle for the water to drain and continue the sprouting process
Rinse seed 2 to 3 times a day
 After 2 to 5 days sprouts will be ready
CLOTH METHOD
Use a flat bottomed container and 100% cotton or linen cloth used exclusively for sprouting.
Soak seeds in shallow water for the recommended time
When finished soaking, empty seeds into a strainer and rinse
Line the bottom of container with a wet cotton cloth and spread seed  on top
Take a second cloth or the remainder of the same cloth and put it on top of seed
May add additional water
Later, if cloth is drying, sprinkle water on top or if very dry remove seeds, rinse and re-wet cloth
Copyright © 2015 – All Rights Reserved – Michelle Honda Ph.D.