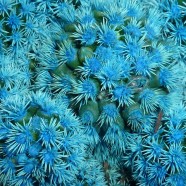 Magnesium can play a crucial role in determining whether or not a full healing process takes place in conditions such as Crohn's, Colitis, Pancolitis and IBS. It is the most important mineral in the body, vital for all primary bodily functions. Learn about all the conditions and applications that are greatly benefited by magnesium. Also provided is a food list for the best sources containing optimum levels of magnesium. In addition, magnesium requires certain dietary components in order to be utilized by the body.
Magnesium
Magnesium is unquestionably one of the body's most influential, multi-tasking element, not only assisting in the production of cellular energy, but also the heart cannot make use of the constant energy supply to function properly without adequate magnesium. A few other requirements of magnesium include energy production, bones and teeth, neuromuscular sensory and the synthesis of vitamin D to assist calcium in finding its way into the bloodstream.
Magnesium is involved in many biological roles and performs more functions than any other mineral by a significant margin. It is the relaxer in the body routinely called upon by the down side of the heart beat, preventing muscles from cramping and works hand in hand with calcium for healthy bones and teeth. Magnesium can also be useful as a natural antispasmodic.
How to Take Magnesium
All minerals such as magnesium require a protein to be ingested at the time of consumption. All supplements are to be taken with food unless specified on the label.
• Minerals require amino acids to carry and direct them onto their designated path throughout the body. Since magnesium is the main element in the body performing many more functions than any other; it becomes crucial to ensure the availability of this mineral through supplementation and its absorption.
Why is Magnesium Important for Crohn's Disease and Similar Complications?
The carrier protein for magnesium is often impaired with conditions of Crohn's Disease and commonly with Colitis and other gut abnormalities. Magnesium is used liberally throughout the body and when it becomes unavailable, metabolic functions requiring this mineral could cease. There is no doubt as to its fundamental role in the maintenance of the body and its further healing and balancing requirements. It is not uncommon for the unavailability of magnesium brought on by malabsorption, to be the culprit in blocking a total disease reversal – particularly noted in chronic intestinal disorders.
Glucose Utilization
Magnesium has also been shown to be needed in the metabolic task of glucose metabolism. It even helps to protect the eyes against retinopathy in type 2 diabetes. In addition, antioxidants, especially anthocyanins offer enormous protection in the area of the unwanted protein that develops subsequently causing the blindness.
Mood Disorders
Magnesium is a natural companion to treat anxiety and depression. It works in tandem with 5-HTP, herbal remedies that calm the nerves including the hormone melatonin and all vitamins, mineral and antioxidant supplements. Added to the mix for increased benefit would be S-adenosyl methionine (SAM e), an amino acid coupled with adenosine triphosphate (ATP).
Children and parents: Infants who cry abnormally may need more magnesium. The parents of children who are up crying throughout the night will need magnesium as well to help remain tolerant and not feel overwhelmed. Other nutrients for the parent and child may be in short supply however this crucial mineral will always help.
The condition of ADHD may be benefited by supplemental magnesium along with the all important omega 3 fatty acids and a B complex for stress.
Foods High in Magnesium
All green vegetables contain a significant amount of magnesium since this mineral is an essential component in chlorophyll – the green juice in plants. Nuts and grains possess the highest levels of magnesium. Yellow cornmeal is a very good source of magnesium, while unpolished rice has eleven times the amount compared to polished rice. Wheat germ is another particularly rich source of magnesium. Fish is a quality source along with beef and veal joints, especially when made into a broth. Higher milk sources are goat's milk and soymilk.
Fruit
Apples
Apricots, dried
Avocados
Bananas
Berries
Coconut
Dates
Figs, dried
Grapes
Peaches
Pears
Prunes
Nuts
Black Walnuts
Brazil nuts
Cashews
Filberts
Hickory nuts
Nuts in general
Peanuts
Pecans
Pistachio nuts
Sunflower seeds
English Walnuts
Vegetables
Beans, dried white
Beans, Lima fresh
Beans, Garbanzo
Beet tops and greens
Cabbage
Corn, sweet
Cornmeal
Dulse
Endive
Green pepper
Lentils
Mint
Oats
Okra
Parsley
Peas, dried
Rice, wild and brown
Rye, whole
Sorrel
Soybeans, dried
Spinach
Swiss chard
Turnip greens
Copyright © 2016 – All Rights Reserved – Michelle Honda Ph.D.
 Announcement
Look for my new forthcoming books "Reverse Heart Disease Naturally" (Jan.31, 2017) and "Reverse Inflammation Naturally" (May 31, 2017) and "Reverse Thyroid Diseases Naturally" (Fall 2017)
Reverse Heart Disease Naturally 
Where to Purchase Reverse Gut Diseases Naturally
Hatherleigh Press Page Buy Book RGDN
Local Book Stores in US and Canada
Disclaimer
While close attention was given to the accuracy of information in this article, the author accepts neither responsibility nor liability to any person with respect to injury, damage, loss or any circumstances involving alleged causes directly or indirectly related to the information in this article. The sole purpose is to educate and broaden ones awareness. This information is not meant to replace medical advice or services provided by a health care professional.