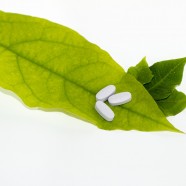 Learn about a Native American plant that has been reported as possessing the greatest antioxidant values of any other fruit. This is a huge statement since I am aware of another tooting a great number of benefits and huge levels of antioxidants – the acai berry. Caution on purchasing the acai berry since many mainstream processing methods significantly lower the acai berries antioxidant levels. In other words, you are not getting the health promoting values you expect or may be paying for.
The plant we are going to explore has antioxidant s that have shown to reduce pain on a cellular level – stopping pain at its source by squashing high levels of inflammation triggers – wipes out COX 2 , CRP, IL 6, and more. The properties in this plant not only work on current pain issues, but prevent pain and future pain anywhere in the body – Results of the plant ditch weed have been confirmed in leading medical journals.
CBS News reported this berry to have "one of the highest antioxidant values ever recorded for any other fruit," citing research published in the Journal of Agricultural and Food Chemistry.
Ditch Weed
Thought to be lost to legend like so many great natural healers, mainstream pharmacology had turned away from natural medicine but is revisiting a vast number of medicinal properties in plants and other natural sources.
The plant ditch weed was once revered as sacred among Native Americans who used it over 150 years ago, using the plant and its berries for its medicinal benefits and in cooking processes.
Research Supports
Published in the journal Mediators of Inflammation discusses the pain-relieving mechanisms found in ditch weed. Ditch weed components actually supports all areas of our joints, for example – the cartilage and synovial fluid, working on a cellular level to reduce pain and promote tissue growth.
This plant can be found along the road-sides and is also known as the wild form of Cannabis. Many people have come to know this and are actively seeking this plant out when out and about for walks.
Copyright © 2018 – All Rights Reserved – Michelle Honda Ph.D.
Announcement
Look for my new forthcoming books "Reverse Heart Disease Naturally" (Jan.31, 2017) "Reverse Inflammation Naturally" (May 31, 2017) "Reverse Thyroid Diseases Naturally" (June 2018) and "Reverse Alzheimers/Dementia Naturally" (Nov.2018)
Where to Purchase:
Reverse Gut Diseases Naturally
Reverse Heart Disease Naturally

Reverse Inflammation Naturally

Reverse Thyroid Disease Naturally


Reverse Alzheimers Naturally



Hatherleigh Press Page Buy Book RGDN
Local Book Stores in US and Canada
Disclaimer
While close attention was given to the accuracy of information in this article, the author accepts neither responsibility nor liability to any person with respect to injury, damage, loss or any circumstances involving alleged causes directly or indirectly related to the information in this article. The sole purpose is to educate and broaden ones awareness. This information is not meant to replace medical advice or services provided by a health care professional.