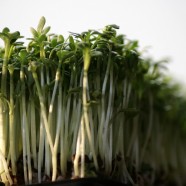 Most people could not imagine the enormous health benefits found in Broccoli sprouts. Learn about their special nutritional contributions and how easy they are to grow. Broccoli sprouts are also available in your local grocery stores.
Health Benefits
Let's first look at the health risks these diet rich nutrients are being hailed for and why?
The antioxidant powerhouses 'sulforaphane, glucoraphanin, and glucosinolates' are many times higher in broccoli sprouts compared to mature broccoli. In fact they posses 10-100 times more glucoraphanin than regular broccoli. Also corroborated by Johns Hopkins University, broccoli sprouts contain as high as 50 times the concentration of phytonutrients compared to the mature broccoli.
How does sulforaphane help fight cancer?
Sulforaphane is an especially potent compound that has shown to boost our body's protective enzymes that can actually remove cancer causing chemicals according to Jed Fahey, ScD.Jun 19, 2012.
Other benefits:
Fight free radical damage
Boosts body's immune system
Support our natural defense systems
Liver support
Prevents and combats Heart/Cardiovascular disease
Glucoraphanin decreases blood pressure
Props up normal body functions
Supports healthy gut health
Promotes healthy aging
Encourages healthy skin and hair
Nutrition Facts
Vitamins and minerals found in broccoli sprouts:
Nutrients include – potassium, fiber, protein, calcium, iron, thiamin, riboflavin, niacin, folate, zinc, and vitamins A, B6, B12, C, D, E, and K
All through the sprouting process, minerals like magnesium and calcium become more 'bioavailable' by binding to proteins
About the Sulforaphane antioxidant
The breakdown of the antioxidant  organosulfur compounds (sulforaphane) is as follows: Sulforaphane (SFN) is a molecule within the isothiocyanate (ITC) group of organosulfur compounds. Sulforaphane is a phytochemical commonly found in cruciferous vegetables such as, Brussels sprouts, broccoli and a variety of cabbages.
Nutritional Breakdown of Broccoli sprouts
Harvested at just 4 to 5 days old, broccoli sprouts provide a 3 ounce serving of: 2 grams of protein, 5 grams of carbohydrate and 4 grams of fiber.
How long do you soak broccoli sprouts?
For much more information on how to grow broccoli sprouts and other health promoting plant sprouts, go here, otherwise simple follow the below instructions:
Place the seeds into a jar and cover them with a few inches of warm purified water
Soak overnight in a warm dark place
Once soaked for 8 to 10 hours, drain the water off
Rinse the seeds with fresh water, 2 to 3 times a day for 3 to 5 days
How to Eat
Sprouts are wonderful in salads, on a sandwich, or sprinkled on certain prepared foods and as a garnish. Also add them to your favorite vegetable or fruit juice recipes.
Enrich your diet while supporting your quality of life and longevity by regularly eating sprouts.
Copyright © 2018 – All Rights Reserved – Michelle Honda Ph.D.
Announcement
Look for my new forthcoming books "Reverse Heart Disease Naturally" (Jan.31, 2017) "Reverse Inflammation Naturally" (May 31, 2017) "Reverse Thyroid Diseases Naturally" (June 2018) and "Reverse Alzheimers/Dementia Naturally" (Nov.2018)
Where to Purchase:
Reverse Gut Diseases Naturally
Reverse Heart Disease Naturally

Reverse Inflammation Naturally

Reverse Thyroid Disease Naturally June 28/2018


Reverse Alzheimers Disease Naturally Nov. 2018



Local Book Stores in US and Canada
Disclaimer
While close attention was given to the accuracy of information in this article, the author accepts neither responsibility nor liability to any person with respect to injury, damage, loss or any circumstances involving alleged causes directly or indirectly related to the information in this article. The sole purpose is to educate and broaden ones awareness. This information is not meant to replace medical advice or services provided by a health care professional.