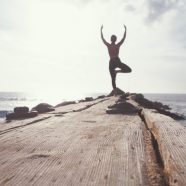 Yoga should be an edifying, calming, and motivating part of your lifestyle. If it's losing its luster – or you simply aren't sure how to advance your practice – like anything else, it can become tiresome. It's important to maintain a positive regimen, and this can be achieved by taking your practice to new heights. Read on for ways to enhance your yoga routine, from using more tech tools, to setting new goals.
Set a Course
In the world of business, companies set goals and objectives for better motivation, since it can provide a sense of accomplishment when you check off your achievements. It's a way to set a course toward success and strategize the journey there. With that in mind, consider setting some goals for yourself. By establishing some concrete markers, perhaps a weekly or monthly goal, you set a course that can inspire growth as time goes by. To help you along in your yoga journey, consider adding an app to your smartphone that is specially designed for setting goals. Think about where you need help and what sort of markers will be important for you. For instance, some apps are particularly useful for time management, and some are especially effective for planning tasks. For both short-term and long-term achievements, your odds of success are improved by having some manner of tracking your progression.
If your phone isn't up to snuff because it's outdated, or your plan is expiring, don't let that create a hiccup in your journey. There are some good deals on smartphones and data plans available. For instance, you can get the latest iPhone 11 Pro for as low as $41.66 a month. You can even find unlimited data plans to allow you to stream yoga channels as much as your heart desires. If an iPhone isn't your thing, there are plenty of Android options out there, and there is something for everyone. Weigh your data needs, what bells and whistles matter to you, and your financial constraints. It's important to make a choice that will bring you peace and not stress, so think through your needs carefully.
When You Miss the Markers
Sometimes you won't reach those goals you set, and right from the start, it's important to remember that's okay. As Iron points out, you can count on the occasional fitness failure, but it's crucial to let go of any guilt that comes with it. Acknowledge when you fall short, forgive yourself, and then set new goals and timelines.
Don't be afraid to ask for help when you miss your markers. Connecting with a well-trained yoga teacher is a great way to get back on track. Ask around for recommendations, and talk with your prospects. You should feel at ease and engaged with anyone who will lead you in yoga, and be able to communicate about what you want to achieve with your program. If you have any injuries or limitations, talk about that as well. If you aren't satisfied with the response, look for someone who is a better fit.
Try Something Fresh
Are you using any props to enhance your yoga regimen? It may sound simple, but as DoYouYoga points out, the addition of a new piece of equipment or two can often take a practice to the next level.
For instance, blocks can be applied to yoga practices of all levels, from beginners to the most advanced. If you're in need of something restorative, bolsters are a must-have. If the range of motion in your shoulders is limited, consider adding straps to your practice. No matter what your goals are, there is a prop to help. If you're unsure what that prop might be, touching base with your teacher can provide further insights.
If your yoga practice is in need of refreshment, there are ways to bring it new life. Think in terms of setting goals, forgiving yourself when you miss them, getting help, and trying new things. Soon you'll feel inspired and reach new heights as a result.
contributing Author: Brad Krause
brad@selfcaring.info