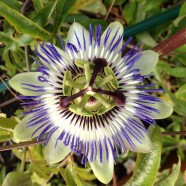 The "Passion of Christ" is a description for the symbolic likeness to a vine known as Passionflower (Passiflora). The phrase was coined by Spanish missionaries who thought its corona resembled the crown of thorns worn by Jesus and not so surprisingly, offers a variety of healing applications. Over the last several decades, intensive effort has been made to discover novel therapeutic organic compounds that are effective against resistant germs. Medicinal plants have weaved their way into cosmetics, food supplements and pharmaceuticals. Passionflower is one of the most researched herbs with a long history in traditional medicine and in recent times has integrated into clinical procedures. Living in a time where anxiety is a constant companion to so many, passionflower has found its place as a healing agent, helping to re-establish inner harmony.
Passionflower is indigenous throughout South and North America, favoring tropical areas. There are over 500 species of this woody vine that bears impressive large white flowers with a pink and purple center. The parts used in herbal medicine include the vine, leaves and stem. Passionflower has traditionally been used as a sedative and for gastrointestinal complaints. Though, currently its therapeutic use has reached into the areas of congestive heart failure, anxiety, asthma, insomnia, seizures, hysteria, ADHD, alcohol and drug withdrawal, antibacterial agent, infections, chronic pain, high blood pressure, menopausal symptoms and cancer. The list for application extends much further. Today, passionflower is primarily used for its sedative and anxiety relieving effects, either as a single herb preparation or in combination with other plant extracts. Passionflower has been measured against such drugs as Diazepam (Valium), Oxazepam, Lorazepam (Ativan), Mexazolam, displaying equal anxiolytic benefits.
Active Plant Constituents
The active components found within Passionflower are comprised mainly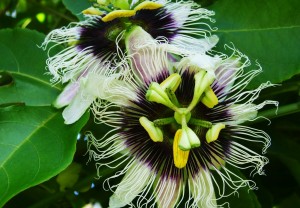 of three groups of chemicals: alkaloids, glycosides and flavonoids. Other key elements include the presence of antibacterial compounds, passicol and cyanogenic glycosides. The harmane indole alkaloids are another key feature of passionflower. Through scientific research, this group of alkaloids have demonstrated antispasmodic activity and the ability to lower blood pressure. The flavonoid portion in this species is estimated at 3%.  Passiflora incarnate has been found to contain the highest concentration of these active properties by comparison.
Naturally occurring serotonin and the chemical maltol are present in passionflower which has documented sedative and calming effects. Research also supports the enhancing effects of passionflower when combined with other plant extracts such as St. John's Wort. On a different note, Perry et al (1991) indicated Passiflora tetrandra's potential as a plant derived antibiotic. New strategies and alternative approaches have become necessary to destroy and prevent recurring infections from superbugs and staph bacterium.
Evidence for Medicinal Indications
Anxiety Relief
A well known double blind study published in the Journal of Clinical of Pharmacy and Therapeutics, took place over a four week period where individuals suffering from anxiety attacks were intensely scrutinized.  The comparison of passionflower to the commonly prescribed drug Oxazepam, showed the extract of passionflower to be equally effective by the end of the four week period. The advantage of passionflower showed in contrast of lesser side effects overall including day time and job restrictions compared to Oxazepam. (1)
ADHD
A comparative study involving children diagnosed with ADHD examined the effects of passionflower to the commonly prescribed stimulant drugs over an eight week period. The outcome showed similar effectiveness in treating ADHD with fewer side effects in the passionflower group. (2)
Congestive Heart Failure
A collaborate study by Eiff, Brunner and Haegeli showed improvement in physical exercise capacity of patients with dyspnoea (difficult breathing) using a hawthorn/passionflower extract. Since it is often difficult to have enough scientific evidential studies conducted in the arena of natural medicine, further study is recommended for congestive heart failure.(3)
Anti-microbial Activity
Passicol is an antibacterial and antifungal agent produced by the Passiflora plant species. Researchers such as Britto (2001), Afolayan and Meyer (1997) and Balakrishna (2000), all confirmed that the plants extracts exhibited anti-bacterial activity when tested against known pathogenic bacterial strains such as Streptococcus, V. cholerae, Bacillus cereus, Escherichia coli, Pseudomonas putida and aeruginosa, Shigella flexneri, fungus and yeasts.(4)
Drug Addiction
A 14 day, double blind study of 65 men afflicted with opiate (heroin) addiction, compared the effectiveness of passionflower in combination with and as a stand alone remedy to a drug routinely used to assist narcotic withdrawal, Clonidine. Clonidine is effective at reducing physical symptoms such as high blood pressure but has no effect on the patient's emotional symptoms such as the nervousness, anxiety, depression and chemical cravings. Passionflower when partnered with Clonidine was successful by a significant margin at relieving the emotional aspects of withdrawal symptoms compared to the drug alone. These findings were particularly important since it is the emotional symptoms which stop the progress of individuals completing their drug treatment program. (5)
Pre Surgery Anxiety
Passiflora incarnate significantly reduced anxiety when administered to 60 patients – 90 minutes prior to surgery in a placebo controlled trial, supervised by Movafegh, A. et al. (2008). (6)
Passionflower is a well researched herb as indicated by Germany's rigorous Commission E by approving its use for nervous restlessness and the British Herbal Compendium approved the use of passionflower for restlessness, sleep disorders, nervous stress and anxiety. (7,8)
Dosage
Dosage recommendations are a general guideline. The amounts may change according to brands and when administered by a qualified practitioner.
Safety: Passionflower is on the FDA's GRAS (Generally Recognized as Safe) List.
Adults (18 years or Older)
Dried herb: 0.5 grams (.5ml/1/8 tsp.) taken 3 to 4 times per day
Alternative: 2 to 3 grams in tablets or capsules taken 2 to 3 times per day.
Tincture: 1 to 4 millilitres (1:8) – (20 to 80 drops) 3 to 4 times per day on the tongue or in liquid.
Tea: 4 to 8 grams (1 to 2 tsp) of dried herb steeped in water 1 to 3 times per day.
Pediatric Dosage
A child's weight is taken into account when adjusting the recommended adult dose. A typical herbal dosage for adults is intended for an adult's weight of a 150 lb (70kg). Therefore, if the weight of the child is 50lb (50-25kg) the appropriate amount of passionflower for this child would be 1/3 of the adult dose.
Drug Interactions and Contraindications: None reported
In theory, sedative effects may be possible when coupled with sedative drugs and other plant extractions of the same nature. (9)
To live a life of tranquility without any stressors, for most of us only happens when we are day dreaming. Regardless of the form with which stress appears, sometimes the body's coping mechanisms cannot sustain a healthy balance. Left unchecked, the entire body becomes affected. During such times, the body initiates a constant state of readiness, which often leads to exhaustion. As we seek out help, a step toward serenity just may be in the form of a woody vine, bearing unusually striking flowers called "passionflower".
Copyright © 2016 – All Rights Reserved – Michelle Honda Ph.D.
Announcement
Look for my new forthcoming books "Reverse Heart Disease Naturally" (Jan.31, 2017) and "Reverse Inflammation Naturally" (May 31, 2017) and "Reverse Thyroid Diseases Naturally" (fall 2017)
Conclusion
If you want an alternative approach that really works, pick up a copy of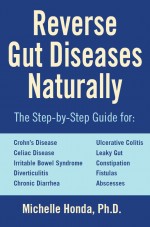 my book 'Reverse Gut Diseases Naturally'. This book specializes in intestinal gut disorders and all associated symptoms. Besides Passionflower, if you want an alternative approach that really works, pick up a copy of their similar natural, safe and effective solutions for the replacement of medications called for in the treatment of chronic depression, post tramatic disorder, sleeplessness, and persistent issues of anxiety, all of which are contained in Reverse Gut Diseases Naturally.
Also, all essential information for restoration of the body is included in great detail in this book, as are the best natural solutions and replacements for most mainstream mediations such as those for depression, anxiety, fatigue, antibiotics and killing superbugs, pain and inflammation and much more….
Get calming and stress reduction benefits from Passionflower in Houston, Chicago, San Diego, Boston, Memphis and Columbus with Michelle Honda PhD Holistic Doctor. Because of the breadth of her education and clinical experience combined, she is an expert at restoring health via natural means. You can renew vibrant health whether you are coping with hormone issues, skin problems, women's issues, diabetes, heart disease or gastrointestinal disorders like Crohn's or Colitis.
Michelle's book Reverse Gut Diseases Naturally is an extraordinary body of work that heals and reverses Crohn's, Colitis and other gut disorders like IBS, celiac disease and more. Her results are so unparalleled for her Crohn's and Colitis patients that some might think of her unbelievably appreciatively – she's that stunningly effective. In 2016-2017, her next book is going to be published on reversing heart disease. Many people doing this nutrition and holistic based work are amazed at how their life can start to change in 30-60 days from Michelle's safe, natural diet, remedies and solutions. A normal life awaits you again. Get started today.
Where to Purchase Reverse Gut Diseases Naturally
Local book stores USA and Canada
Follow Michelle Honda on:
View Patients Testimonials and Frequently Asked Questions (FAQ) on Michelle's book. Check out Michelle Honda's Programs which can be very helpful when purchasing the book or in consideration of working with her personally.
Reverse Heart Disease Naturally 
For those who have need of a one on one appointment, you may book an appointment with Michelle Honda through the office or by telephone. Contact the clinic Renew You (905-304-0111). Appointments by telephone are also available.
Reference
1  Akhondzadeh A, Naghavi H, Vazirian M, Shayeganopour A, Rashidi H, Khani M. 2001 Passionflower in the treatment of generalized anxiety: a pilot double blind randomized controlled trial with Oxazepam. J Clin Pharm Ther 26:363-367.
Krenn L 2002. Passionflower (Passiflora incarnata L.)- a reliable herbal sedative. Wiener Medizinische Wochenschrift 152: 404-406
2 Akhondzadeh, D. Mohammadi, M, Momeni F, 2005. Passiflora incarnata in the treatment of attention deficit hyperactivity disorder in children and adolescents. Therapy 2:609-614.
3 Von Eiff M, Brunner H, Haegeli A, et al. Hawthorn/passionflower extract and improvement in physical exercise capacity of patients with dysponea class 11of the NYHA functional classifications. Acta Therapeutica 1994; 20:47-66.
4 Natarajan D, Brittio JS, Srinivasan K, Nagamurugan N, Mohanasundari C, Perumal G, 2005. Anti-bacterial activity of Euphorbia fusiformis-a rare medicinal herb. J. Ethnopharmacol. 102: 123-126.
5 Akhondzadeh S, Kashani L, Mobaseri M, Hosseini S, Nikzad S, Khani M. 2001 Passionflower in the treatment of opiates withdrawal: a double-blind randomized controlled trial. J Clin Pharm Ther 26:369-373.
6 Movafegh A, Alizadeh R, Hajimohamadi F, Esfehani F, Nejatfar M, 2008. Preoperative oral Passiflora incarnata reduces anxiety in ambulatory surgery patients: a double-blind controlled study. Anesth Analg 106:1728-1732.
7 Blumenthal M, 1998. The Complete German Commission E Monographs. Therapeutic Guide to Herbal Medicines. Austin: American Botanical Council.
8 British Herbal Medicine Association. 1996. British Herbal Pharmacopoeia
(BHP). Exeter, UK.
9 European Medicines Agency Evaluation of Medicines for Human Use: Assessment Report on Passiflora incarnata L. Herba 2008: London.