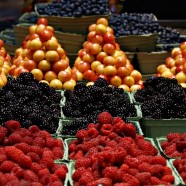 Some may wonder is it possible to take too many antioxidants? View how our Environment Causes Harm and Disease prompting an every ending need for support against free radicals. A list of the Best Foods providing Exceptional Nutrients to Assist in Rebalancing the Body?
Are Free Radicals Really the Enemy?
Rebalancing the body is directly linked to functioning and healing processes. Antioxidants are coveted for their ability to destroy free radicals which in simple terms are highly reactive oxygen molecules that steal electrons from other cells to stabilize themselves.
Free radicals have been blamed for just about every aliment known to mankind. Granted if our bodies become overrun by these unstable molecules, excessive oxygenation will alter our cells structure and function, resulting in damage to the cells. However, much of this occurrence is a normal by product in our metabolism. Free radicals are formed during the process of utilizing the oxygen we breathe to produce energy. Another reference for free radicals is Reactive Oxygen Species (ROS) which happens to be crucial in fighting off infections, bacteria and viruses – an active component to the immune system. Even though free radicals have been associated with cancer, they also demonstrate aiding in the destruction of cancer cells and surprisingly, lower the LDL, bad cholesterol. These are but a few examples of how free radicals support the functioning of the body. Additionally, free radicals are involved in metabolic waste which is a constant incidence in the body.
Free Radical Support – External Environment Causes Harm and Disease
These reactive oxygen species (ROS) become a problem when external influences add to the group. You've just had a glimpse at the proactive work free radicals provide and now we will examine outside sources that create a need for antioxidants to prevent an over accumulation of unstable oxygen reactive molecules. Areas that bombard our systems include UV rays, drug medications, food additives and preservatives, tobacco, pesticides and insecticides, fungicides, high bad fat diets, obesity, pollution, radiation, chemical and organic solvents and even extreme exercise programs.
On any given day our body deals with thousands of free radical attacks on the cells of our bodies. When we add to this already primed function the resulting outcome of an over abundant of unstable cells trying to stabilize themselves; manifests a long list of medical illnesses.
Antioxidants: Can you take too many?
Supplemental antioxidants have shown by some researchers to be detrimental in combating too many free radicals that have an important job to perform. The safer avenue to take would be through the diet. Juicing and eating raw foods will provide a balanced supply of antioxidants along with a rich source of phytochemicals, nutrients, fiber, enzymes, nitrosamines, bioflavonoids, vitamins, minerals and low trans and saturated fats.
What Vegetables, Greens and Fruits Provide a Wide Variety of Nutrients to Assist in Rebalancing the Body?
Sprouts
Sprouts are living foods that have concentrated amounts of phytochemicals and antioxidants that can protect us from disease and slow the aging process. These powerhouses of nutrients are demonstrating their benefit in disease prevention as noted with the following: Saponins in alfalfa are shown to lower bad cholesterol and research at John Hopkins University School of Medicine, USA, have discovered that broccoli sprouts have high amounts of a natural cancer fighting compound.
Sprouts
Alfalfa
Broccoli
Mung bean
Mustard Seed
Pumpkin
Sunflower
Millet
Quinoa
Amaranth
Buckwheat
Fenugreek
Radish
Rye
Oats
Almond
Rice
Lentil
Vegetables
Carrot
Beet
Celeriac root
Horseradish root- small amount
Endive
Cabbage – red and green
Celery
Tomatoes
Peppers
Sweet potatoes
Radishes
Asparagus
Okra
Greens
Dandelion- green and red
Kale
Parsley
Beet greens
Watercress
Spinach
Cilantro
Mint
Lemon Balm
Berries
Wild Blueberries or cultured
Aronia
Raspberries
Blackberries
Strawberries
Logan berry
Pomegranate seeds
Cranberries
Fruits
Apples
Lemons
Passion fruit
Pineapple
Papaya
Apricots
Peaches
Cherries
Kiwi
Lime
Lychee
Melons
Mango
Grapes
Pears
Bananas
Plums
Orange
Grapefruit
Grasses
Wheatgrass
Barley
Correlating Posts:
Best Health: Raw Juice Heals Gastrointestinal Problems and Prevents Disease (1 of 5)
Best Health: Best Ways to Correct Malnutrition Malabsorption Problems (2 of 5)
Best Health: Are Free Radicals Really the Enemy? (3 of 5)
Best Health: Best Ingredients to Enhance a Juice Formula (4 of 5)
Best Health: Smoothies – Advantages and Disadvantages (5 of 5)
Copyright © 2015 – All Rights Reserved – Michelle Honda Ph.D.